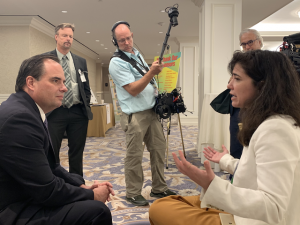 The Heartland Institute's 15th International Conference on Climate Change is being held from Thursday, February 23 through Saturday, February 25 at the Hilton Orlando Buena Vista hotel in Orlando, Florida.
To apply for media credentials send an email with "Conference Credentials" in the subject line to media@heartland.org.
Credentials, issued at check-in at Heartland's registration desk, are required for each individual from a media organization and must be on display at all times. The meals set at the tables in the plenary session are for paid attendees only. 
QUESTIONS? Contact Heartland Institute VP and Director of Communications Jim Lakely at jlakely@heartland.org, or call/text 312-731-9364.
APPLICATION DEADLINE: Wednesday, February 22, 2021 at 12 p.m. CT.